Africa Wildlife Safari
All-Inclusive Safari Tour • 25 Aug. - 3 Sep. 2022
Call 888.828.0096 or email for Availability
TOUR FULL
New: African Wildlife Safari Promo: 8/24 - 9/2, 2023


75+ Different Mammals. Big Five: Lion, Leopard, Rhino, Elephant & Buffalo. 300+ Bird Species, 270 Flowers & 100+ Different Trees. 98K+ Acre Malaria Free, Waterberg Mountains Reserve.

Tour Details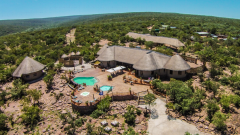 7 nights in our full service five-star exclusive lodge, Waterberg Mountains (Biosphere) Waterberg Mountains
The lodge, all safaris and events are exclusive to our club members on our tour.
Private reserve and lodge with twelve luxurious 400+ sq. ft. suites!
‐ Beautiful, spacious and unique local craft interior designs with balconies overlooking the reserve
‐ Bath, shower, hairdryer, AC/Heat, Coffee/Tea, Mini-bar & Safe
‐ Twin (two beds), Double and a limited number of suites as singles available

Discounted Club/Group flights available on United from Boston (USA Direct -> Africa)
ALL Safaris, Events & Meals: breakfast, lunch & dinner included - High culinary level!
Dry season in South Africa & one of best times for viewing wildlife (Fall & Spring)
Certified and highly knowledgeable South African Wildlife Guides on all activities
Guided Game Safari Drives including the Big 5 at Pilanesberg National Park & Welgevonden Game Reserve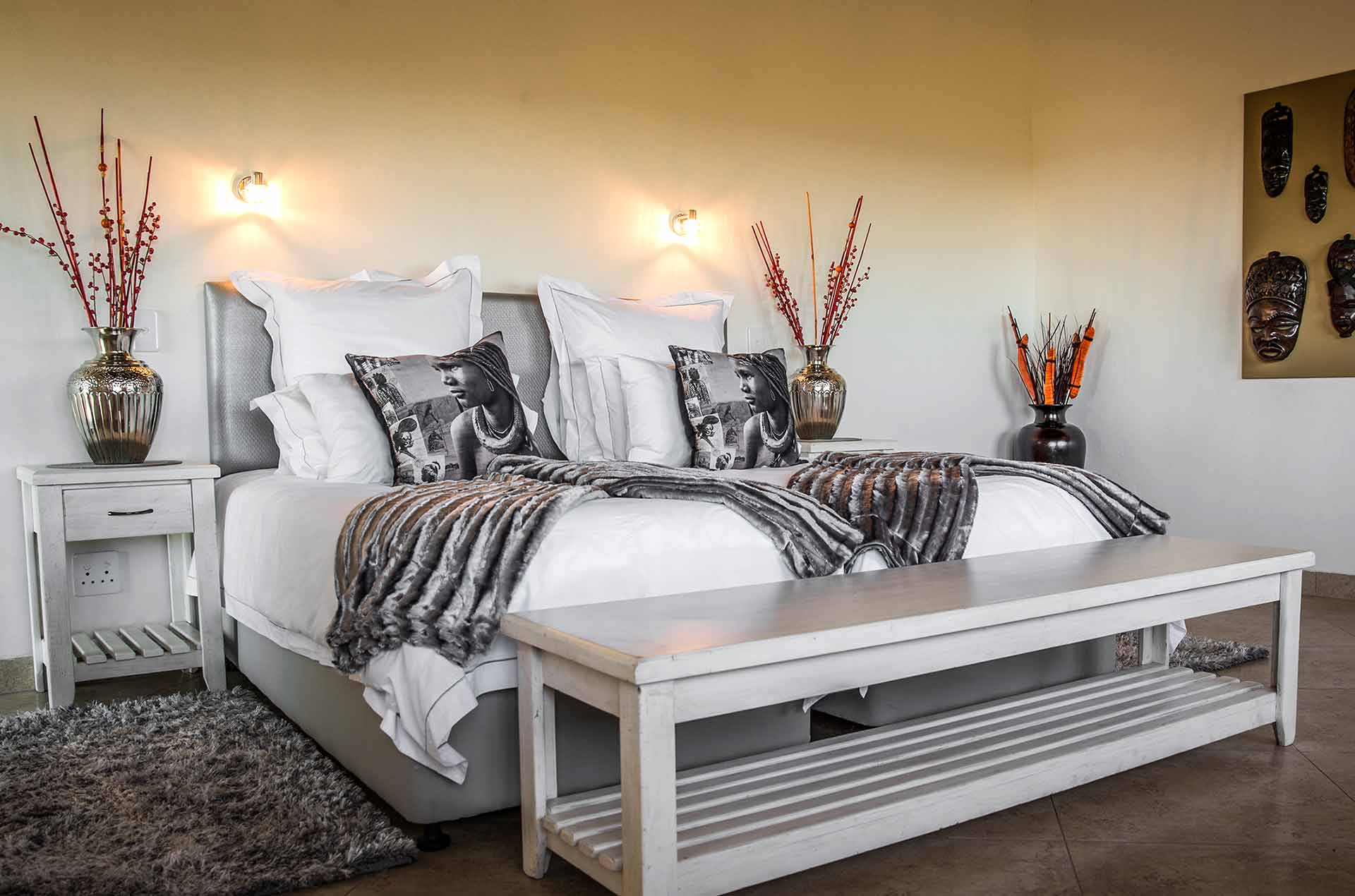 Tribal Evening with traditional cuisine, singing & dancing
Guided trail walks through the Waterberg Mountains bush
Hiking and wildlife walks always available in our secure private wildlife reserve
Traditional African champagne brunch overlooking wildlife having lunch!
Champagne and sunset at Leopard Rock
Spectacular campfire dinner in the bush & night safari
Many other events included (cannot be published)
Instagram & Facebook from our phones of some events on our Sep. '21 tour
*Exclusive Promotional Tour; Open to qualified applicants (some restrictions).
No hidden charges - All Meals, Accommodation, Taxes, Entrance Fees, Events & Tours INCLUDED!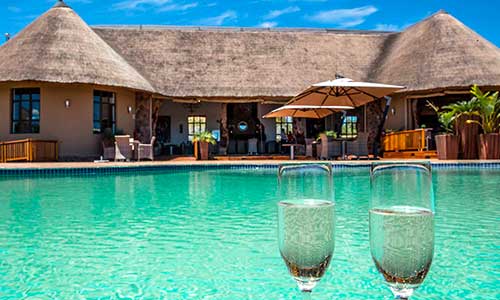 Trip SWAG, group escort & more!
Price, per person, based on double occupancy.
View every detail of your account/reservation on-line any time.
A $495 deposit and $50 2022 club membership, required to secure your spot.
Call 888.828.0096 or email any time (7 days) for more details
Some Events...
All included & more ...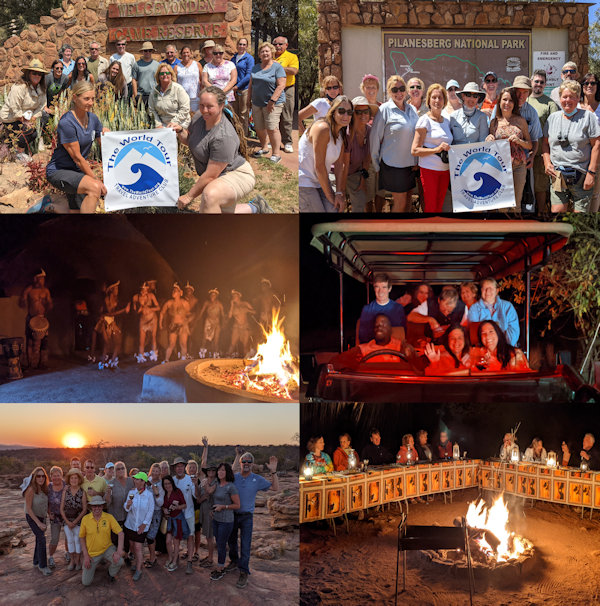 Welgevonden Game Reserve
Welgevonden Game Reserve is one of the absolute highlights of our Safari. It's one of South Africa's largest private reserves and encompasses more than 40,000 Hectares of pristine nature with 50 different mammal species, including the BIG 5; lion, elephant, buffalo, rhino and leopard.
Pilanesberg National Park
Pilanesberg National Park is a beautiful area in the North West province of South Africa. Situated in a volcanic landscape, its impressive mountain formations and open plains, are home to a range of antelopes and a large population of white rhino. It is also home to the big 5, as well as over 300 species of bird.
Tribal Evening
Tribal evening is the perfect opportunity for you to experience the indigenous African peoples way of life, gaining historical and cultural insights into the lives of the local people. Here you will indulge in traditional cuisine, experience customs and traditions of the people and be amazed by the singing and dancing of these talented locals.
Night Safari
The African bush at night is an amazing experience! On our night safari we have the opportunity to see animals that are nocturnal in nature and the African night sky in all its wonder. En route we will stop at "Flinstone Cave" where our chefs will treat us to a feast under African skies next to the comfort of a roaring wood fire.
Flights...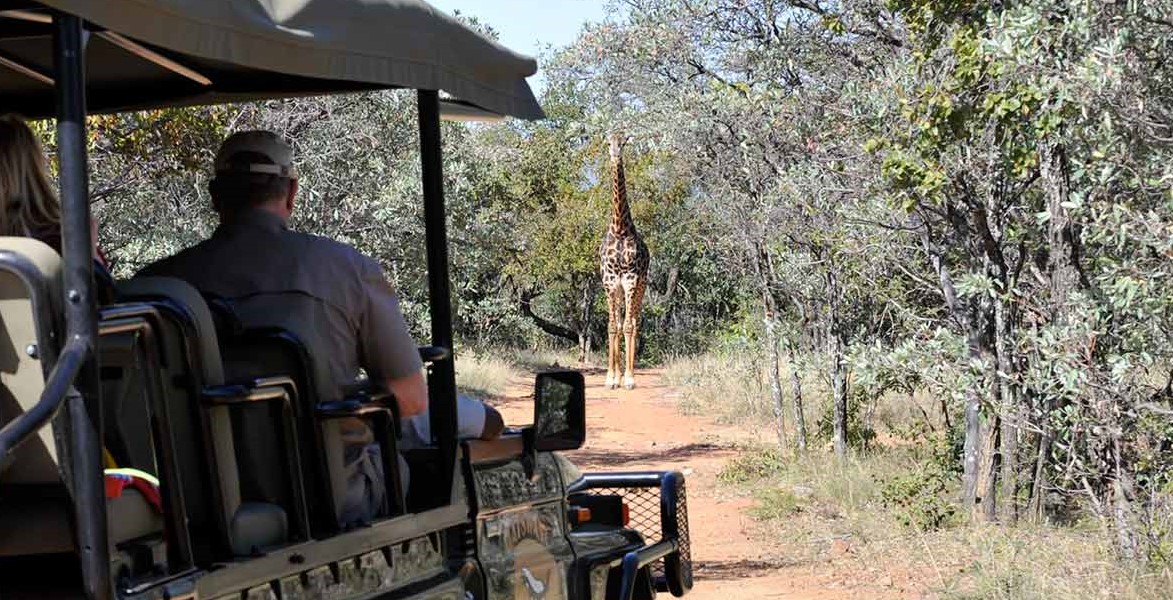 Great Flight Options: USA <-> Johannesburg
Option to book with our discounted club group flights and travel with our group from Boston, or purchase our land package and book flights yourself Kayak (points, miles, on-line discounts, etc.).
Final meet up and transfers are from the JNB / Tambo International airport and match our group flights.
There are reasonably priced quality hotels at Johannesburg airport (JNB-O.R. Tambo Intl). Useful if you want a different arrival/departure.
Club Group BOSTON Flights:
United Airlines (Boston - Newark - Johannesburg)

Departure:
BOS - EWR 4:05 pm - 5:37 pm Thursday
EWR - JNB 8:45 pm - 5:45 pm Friday (Johannesburg Arrival)

Return:
JNB - EWR 8:00 pm - 5:45 am Friday
EWR - BOS 8:25 am - 9:44 am Saturday (Boston Arrival)

Two check-in bags included. United offers Economy Plus seating upgrades. Group Passengers with applicable Mileage Plus status, may secure complimentary Economy Plus seating. Basically, our priority group is a guaranteed price with all upgrades, points etc. available for the flights above.
Why Choose This Safari?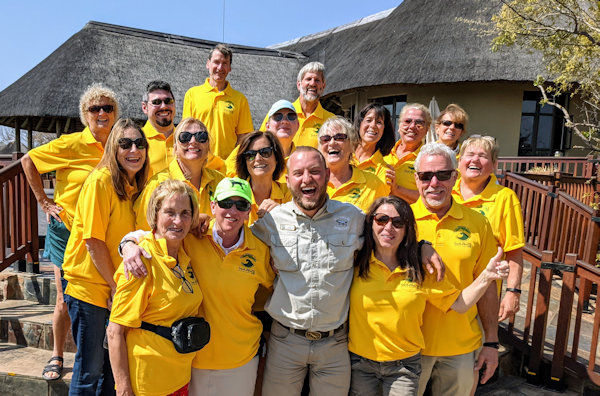 You will see the most variety on this Safari, and it's not unusual to see most if not all of the Big 5! This is mainly because our Safari includes two outstanding private reserves and the Pilanesberg National Park.
This is the perfect trip if any of the following apply to you:

This is you first Safari.
You are nervous or concerned about Africa (South-Africa is as similar as it gets to Europe/USA).
You have safety, accommodation, or food concerns (5☆ Lodge on a private reserve).
You want many, varied, safari experiences during your safari week.
You want the wildlife reserve/park experience, stay on a reserve, but not be limited to the local reserve.
You do not want to change accommodation locations and want to minimize travel.
Price: the cost of our all-inclusive Safari is only $1,995 for the all-inclusive land package.
Best time for Safaris, early spring & fall, as it is "dry season" with pleasant weather, where the animals congregate around the waterholes and are not hidden in the shade.
All wildlife relatively local, so no switching hotels or distant travel required to enjoy this beautiful part of the world.
Nothing that can eat or attack you at our resort, so no special precautions required around our accommodation, lodge and within the pedestrian boundaries of our private reserve.
Avoids all the normal Safari pitfalls, all-inclusive with excellent flight options and no up-sell or "mandatory" options. Five-star "high culinary level" meals, great Safaris and an awesome agenda, all included! Some on our 2021 trips skipped a few events/safaris, as again, every option and event is included, so if you do everything it's relatively busy (Safari burn-out!). If you choose to do everything, there's still plenty of time to enjoy our magnificent lodge on our private reserve, hang by the pools, at the bar, go for nature walks and more.
Some photos from an android phone, Club Safari 2021!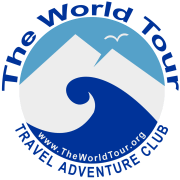 The World Tour
Travel Adventure Club

(888) 828-0096
Boston | New York

E-mail or Call 7 days a week!

Awesome International Club Trips Since 2000!
The World Tour - Travel Adventure Club, LLC
© Copyright 2022. All rights reserved.